Razee
Fully Grown Corn






United Kingdom
2525 Posts

Posted - 25/10/2015 : 09:52:41


---
I had to seriously struggle not to keep this one as a pet...

Maisie ( the killer psycho kitty, who keeps attacking me ) has taken to bringing back live mice. Quite often they are also unharmed, but in shock, so if we can we take them off her, let them recover for 10 mins or so in a quiet box, and then release them in the hedge ( whilst keeping Maisie in for a bit ).

Last night hubby came into room, with the cutest ever BABY field mouse sat in his hands. It was doing the slow closing and opening of eyes, and rocking back and forward, of a shocked mouse... but was unharmed otherwise.

I put it in one of the cereal boxes I save for the snakes, and it just sat in the corner, rocking. I gave it a tiny wedge of an apple, and it reached both front paws towards me, and took the apple from my hands, as if it had been a tame mouse all its life :-)

Then it sat in the corner, holding the apple and nibbling it. It was so tiny, and such a cuteness overload, I had to really struggle not to keep this one as a pet.

Anyway, it got released behind the compost heaps with its belly full, with plenty of cover and food, and Maisie the psycho kitty safely shut indoors.

I know it seems weird to rescue mice, especially as I'm buying dead ones regularly as a snake food - but I feel that because of that, I owe it to them in a strange way.
---
0.1.0 late CB10 Carolina corn snake - Bazilishka
1.0.0 CB11 Abbots Okeetee- Little Twiddler
1.0.0 CB11 Hypo corn- Sebastianek
1.0.0. CB14 Butter Motley - Squidwood
0.0.2 CB18 normal/ Okeetee yearlings Bunny and Lalalishka
0.0.1 hognose
0.1.0 stable cat
0.1.0 house cat
scottishbluebird
it is all my fault






United Kingdom
8403 Posts

Posted - 25/10/2015 : 17:33:44


---
awwwww, wish you had a pic!
---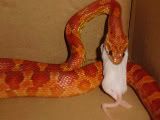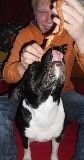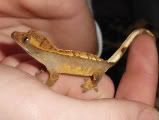 0.1.0 Corn - Kellogs
1.0.0 Hognose - Storm
0.1.0 Staffy - Lyla
1.0.0 Spaffy(staffy x springer)-Spyro
1.0.0 Ferret - Peanut R.I.P
0.1.0 Crestie - Fudge. Wish List - Pygmy hedgehog. Tropiocolotes

Razee
Fully Grown Corn






United Kingdom
2525 Posts

Posted - 26/10/2015 : 12:56:26


---
With a hindsight, I wish I'd filmed it, the moment when it took the apple from me would have been priceless :-)
---
0.1.0 late CB10 Carolina corn snake - Bazilishka
1.0.0 CB11 Abbots Okeetee- Little Twiddler
1.0.0 CB11 Hypo corn- Sebastianek
1.0.0. CB14 Butter Motley - Squidwood
0.0.2 CB18 normal/ Okeetee yearlings Bunny and Lalalishka
0.0.1 hognose
0.1.0 stable cat
0.1.0 house cat

scottishbluebird
it is all my fault






United Kingdom
8403 Posts

Posted - 26/10/2015 : 14:44:45


---
quote:

---

Originally posted by Razee

With a hindsight, I wish I'd filmed it, the moment when it took the apple from me would have been priceless :-)


---

that bit would have turned me to mush lol
---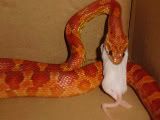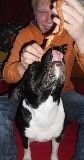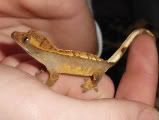 0.1.0 Corn - Kellogs
1.0.0 Hognose - Storm
0.1.0 Staffy - Lyla
1.0.0 Spaffy(staffy x springer)-Spyro
1.0.0 Ferret - Peanut R.I.P
0.1.0 Crestie - Fudge. Wish List - Pygmy hedgehog. Tropiocolotes